---

Now Playing: "Brazilian Rain" by Urban Knights
Wednesday, May 25, 2016
​through
Sunday, May 29, 2016​
​
Central School
Ben Mount Theatre
809 Kirby Street, 2nd Floor​​
Lake Charles

​​​​FEE: $85
Music is a magical gift we must nourish and cultivate in our children. So help us to support music education and scholarships for our children.
A Jazz In The Arts Presentation
JAZZ IN THE ARTS
​
​Summer Youth Jazz Workshop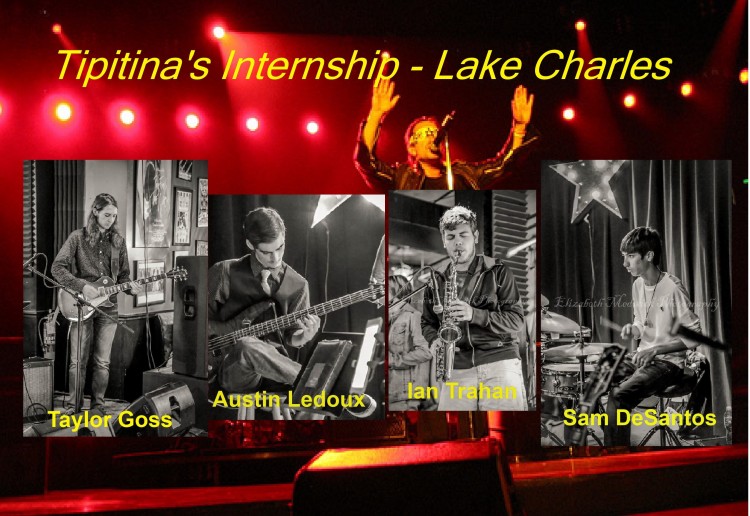 Taylor Goss, Austin Ledoux, Ian Trahan and Sam DeSantos are four
exceptional Tipitina's Internship-Lake Charles students that have been
accepted into Berklee College of Music's Five-Week Summer
Performance Program. They are all very talented in their instrument
and all four students have received partial scholarships but still need
assistance with tuition, room and board, travel, and living expenses
while in Boston.
​
This is an opportunity of a lifetime that will help give them a chance
to learn with peers from all over the world, gain more knowledge and
training, and allow them to receive college credits.
​
We are asking that you help us to support these four young men in
achieving this great opportunity of learning. Thanking you in advance for
your support.



To donate to this great cause go to: http://fnd.us/jazz_arts_education?ref=sh_95co96.

​​
Students to attend Berklee College of Music
​Five-Week Summer Performance Program.
CAMP INSTRUCTORS

:
Tim McMillen, Sulphur High School
​
Mickey Smith, Maplewood Middle
​
Pat ​​​​Lavergne, McNeese State University
​
Chester Daigle II, JITA Founder,
​ Tipitina's Internship Coordinator
and Instructor​
​
Jairus Daigle, JITA, Tipitina's
Internship Instructor, Berklee
​College of Music Grad.​​​​







​​​​​​


​​CAMP SCHEDULE:
Wednesday, May 25th: 9am - 4pm
​
Thursday, May 26th: 9am - 4pm
​
Friday, May 27th: 9am - 4pm
Downtown at Sundown: 6pm
​
Saturday, May 28th: ​​​​​​​​9am - 12 noon
Rikenjaks: 6pm​

Sunday, May 29th:
​Workshop Concert​​: 6pm
​


Performances by

:
~JITA Instructors
~Berklee Summer Students
~David Billodeau - JITA's
2016 Chester Daigle II
Scholarship Recipient
~JITA Workshop Combo's​​​​